Why Can't Cats Be Service Animals: People who are affectionate with cats would see that their pet has so much potential. Some have even trained their feline friend to do certain tasks. So the question that bugs them is if dogs can do service work for humans, why can't cats be service animals?
Cats can't be service animals simply because the law doesn't recognize them as one. Unlike trained dogs, cats can't pull a wheelchair, guide people who are blind or alert those who have hearing difficulties. Nonetheless, cats can be registered as emotional support animals.
In this article, we'll discuss if cats can be service animals in the US and what other roles they can play. We'll also dive into the areas where they can be helpful to emotionally, mentally, and medically challenged individuals, so stick around!
Can Cats Be Service Animals in the US? + Why Can't Cats Be Service Animals?
No, cats can't be service animals in the US primarily because they aren't recognized by ADA requirements. These guidelines specifically indicate that a service animal is a dog or a miniature horse individually trained to work and perform tasks for people with disabilities.
Since cats aren't generally receptive to training, many believe that they can't perform the tasks that service dogs do. This doesn't mean that felines can't be of any help, though.
In fact, people with medical conditions have claimed that their furry companion has saved their lives many times before. Trained or untrained, a few cats have helped their owners by warning them of medical emergencies. For the record, one cat managed to call 911.
Hence, even if they aren't legally recognized as service animals, to some pet owners, they already are.
Felines can do wonders, that's for sure. Since most of them are affectionate, intelligent, and human-oriented, they can be trained to become therapy pets. They, too, can serve as emotional support cats, reducing symptoms of mental disabilities.
Can You Train Cats to Be Emotional Support Animals?
You can choose to train cats, but unlike service animals, they don't require specific training to be considered emotional support animals. Cats help their owner by simply being present. Their meows, head nudges, and fuzzy faces improve their owners' well-being and mental stability.
Now, for your cat to become a legitimate emotional support animal, you'll have to acquire an ESA letter from a therapist/or a service like us. The therapist will then evaluate your emotional and mental stability.
Once they verify your condition, they'll grant you a letter prescribing a need for the emotional support cat.
With a registered ESA, you can exercise your right to be with your assistant cat in a no-pet apartment. You won't be subject to pet deposits, too, as per the Fair Housing Act. Plus, you can bring your emotional support cat with you on a flight under the Air Carrier Access Act.
To enjoy the privileges of bringing emotional support cats in public places, they should behave well and not be a nuisance to others.
It'll help to socialize your cat while he's still little. You can also teach him basic obedience rules, such as sitting and staying. These things are possible through positive training methods and will ensure that your feline will behave and obey accordingly.
Can a Cat Be a Service Animal for Anxiety?
Cats can provide comfort and support for people suffering from anxiety. Yet, this doesn't warrant them to be legally called service animals. Their function is more about giving emotional support.
In other words, living with emotional support cats can alleviate symptoms of anxiety, depression, and other psychiatric disabilities. Socializing with them can calm one's nervous system, lower blood pressure, and normalize the heart rate.
Do Cats Help With PTSD?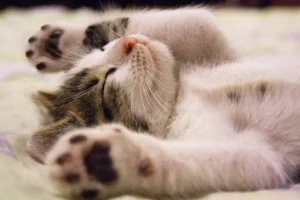 There are insufficient studies to support that cats can take away PTSD, but they can definitely ease symptoms of post-traumatic stress disorder. Stroking cats, for instance, leads to a reduced level of cortisol—a stress hormone, in the body. This is vital in alleviating symptoms of PTSD.
On top of that, having a cat that reacts to you and loves you in the most genuine way can promote positive mental health. The unconditional love that a cat provides directs people with PTSD to focus on good things in the present rather than the bitter shadows of the past.
To Wrap Up
Cats are quite beneficial to their human companion as they help relieve their owner's anxiety, depression, stress, and other mental disabilities. They're intelligent in nature and can be trained to do certain tasks.
Yet, the reason why cats can't be service animals is that they're not recognized by ADA requirements.
They can still be registered as ESA, though. However, for some medically challenged owners who've proven their furry buddies to be more than just pets, cats are unsung heroes.
---
If you liked this blog article about the question: Why Can't Cats Be Service Animals, don't forget to leave us a comment down below to tell us about your experience.